Features
This design has been standard in the industry for decades. While it will not provide the vertical movement in the batch that our helical design does, it will move the product off the wall to provide improved heat transfer and eliminate dead zones in the batch. Riser structures other than the triangular type normally require a stabilizer ring at (or near) the top of the blade.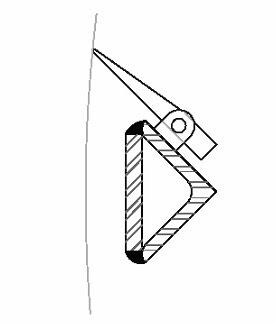 TRIANGULAR RISER STRUCTURE WITH TEFLON SCRAPERS FOR SWEEP BLADES
This is Hockmeyer's premium design. This type of riser is the strongest and most durable, designed specifically for the type of forces the sweep blade encounters. Also, the three flat sides ease clean-up on high viscosity products. While this is the most expensive option, many customers prefer the longevity and reduced maintenance of this design. No stabilizing rings are required due to the strength of this design.
Machine Features
Move product off vessel wall
Improves heat transfer
Eliminates batch dead zones
Services
Customer Testing-Applications Lab

Choosing the Proper Equipment Can Easily Be Done at our Customer Service Laboratory

Test-To-Own Demo Program

Hockmeyer machines are guaranteed to enhance your process. Before purchasing equipment, schedule an appointment with our Lab Technicians and see how machines meet your process needs.

Parts & Service

The Hockmeyer Parts Department is fully stocked for quick turnaround on customer orders to minimize machine downtime.