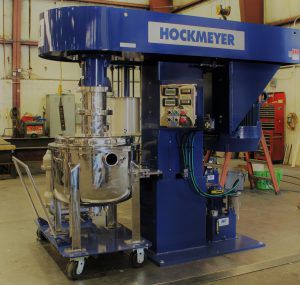 After witnessing how well your process performs with Hockmeyer equipment, you will want to replicate the process at your facility. To ensure consistent batch runs at your factory, Hockmeyer offers customers our Test-to-Own Demo Program to establish the production parameters in your own environment before making a long-term Capex commitment. For business owners, this means low up-front costs.
From power-house companies in printing inks, coatings, adhesives, agrochemicals, pharmaceuticals, cosmetics, and specialty chemicals to upstart entrepreneurs, many have used the Test-To-Own Demo Program of Hockmeyer machines. But each industry has its own needs for data collection and internal testing.
Some prefer to gather data in their environment, while others need extensive trials to validate new processes. This no-commitment evaluation period also allows decision-makers to attain operator buy-in through hands-on training and to secure financial support through data collection. Additionally, using Test-to-Own allows you to do:
Unlimited Internal testing
Closely monitored process validation
Hands-on operator training
Unrestricted data collection
Read The Benefits of Test-to-Own for more information about our Demo Program.
Need Help? Contact Us Today!
Headquarters

Parts & Service
No-commitment evaluation period for decision makers to secure financial and technical support through data collection and operator buy-in through hands-on training. Regardless of industry or application, the benefits of Test-To-Own are:
Unlimited Testing
Process development and validation
Hands-on operator training
Unrestricted data collection
Low up-front costs
No Capex commitment
Hockmeyer Respects Your Privacy
Your privacy is important to us. Hockmeyer Equipment Corporation will not sell your data to third-parties or sign you up for marketing campaigns you did not opt into. By using this form, you agree to Hockmeyers' Privacy Policy.
You can learn more about our Privacy Policy and Terms of Service for more details.