Features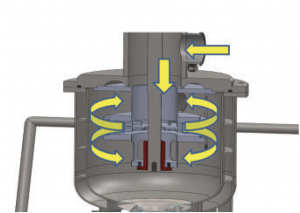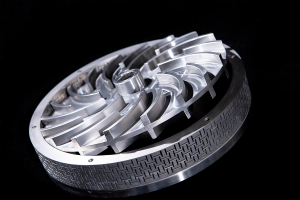 This innovative RotorStator design produces an airless ultra-fine dispersion using an aggressive multi-prong approach to particle size reduction.
Vacuum: the air inside the agglomerates expands and forces the particles apart exposing maximum particle surface area. Liquid and resin encapsulate each particle for fast and thorough wetting.
Controlled Cavitation – The rapid pressure change inside the vacuum chamber creates micro vapor cavities in the liquid. When these short-lived vapor cavities (bubbles) collapse, they generate a shockwave through the feedstock that further aids in particle size reduction.
Extreme Shear Zone: The Interlocking 'H' Stator Design creates a unique shear pattern of vertical and horizontal slots for ultra-dynamic impact while offering maximum open area for greatest flow. The tight tolerances between the rotor and the stator create a short distance between particle acceleration and point of contact for greatest shattering effect on agglomerates.
Dual Pumping Rotor Design – The product is pulled from both the top and bottom of the rotor doubling the number of collisions per particle.
High-speed Recirculation: ~300 gpm. The feedstock is recirculated through the shear zone at high velocity, to maximize the number of passes for every drop
Powder Incorporation: Direct incorporation of powder into the liquid stream using an eductor that controls the flow and creates a venturi effect. This generates suction at the bottom of the funnel pulling powders into the flow. The high-speed jet coming out of the eductor mixes the powder and liquid before it reaches the rotor-stator.
The process takes place in a temperature controlled environment, to preserve formulae characteristics and function. The heat generated by the aggressive shear forces is quickly mitigated by a thorough cooling system covering the chamber and return lines.The result is a deaerated dispersion, a narrow particle size distribution band, volumetric accuracy and an optimal dispersion pre-mix for milling into the nanoparticle size range.Easily hooks up to your existing process tanks. Flexible, portable design. Easy cleanup and changeovers.
Services
Customer Testing-Applications Lab

Don't trust promises, trust results! Hockmeyer offers it's Customer Service Laboratory to show you exactly how our equipment will increase your product quality and efficiency!

Test-To-Own Demo Program

Hockmeyer machines are guaranteed to enhance your process. Before purchasing equipment, schedule an appointment with our Lab Technicians and see how machines meet your process needs.

Parts & Service

Keep your Hockmeyer equipment running smoothly through our fully-stocked parts department. We offer quick turnaround times that minimize your machine's downtime.