Features
The use of a single arm half helical blade in a multi-function, multi-shaft mixer results in significantly improved heat transfer compared to multiple riser, multiple helix mixers. The half-helix blade operates at lower peripheral speeds with easily replaceable scrapers that trail the vertical and horizontal portion of the blade.
This allows for efficiently directed scraper flow off the wall of the vessel and into the path of the leading helix as it travels back to the scraped area. The gradual pitch combined with the wide face of the helix itself results in uniform top to bottom turnover while simultaneously improving heat transfer due to the increased dwell time of the feedstock against the wall of the tank. Additional benefits to this design include reduced horsepower requirements and dramatically reduced clean up time.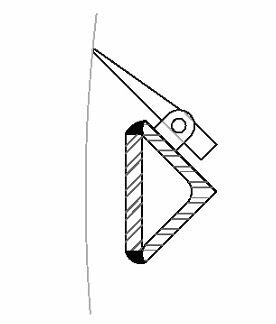 TRIANGULAR RISER STRUCTURE WITH TEFLON SCRAPERS FOR SWEEP BLADES
This is Hockmeyer's premium design. This type of riser is the strongest and most durable, designed specifically for the type of forces the sweep blade encounters. Also, the three flat sides ease clean-up on high viscosity products. While this is the most expensive option, many customers prefer the longevity and reduced maintenance of this design. No stabilizing rings are required due to the strength of this design.
Machine Features
Lower horsepower consumption
Superior batch turnover
Better heat transfer
Easy batch clean-up
Services
Field Training & Support

Hockmeyer is dedicated to providing best-in-class support to maintain the lifespan and efficiency of your Hockmeyer equipment.

Equipment Support Program

Learn about how Hockmeyer can provide dedicated service, maintenance, and training through our Equipment Support Program.

Customer Testing-Applications Lab

Don't trust promises, trust results! Hockmeyer offers it's Customer Service Laboratory to show you exactly how our equipment will increase your product quality and efficiency!