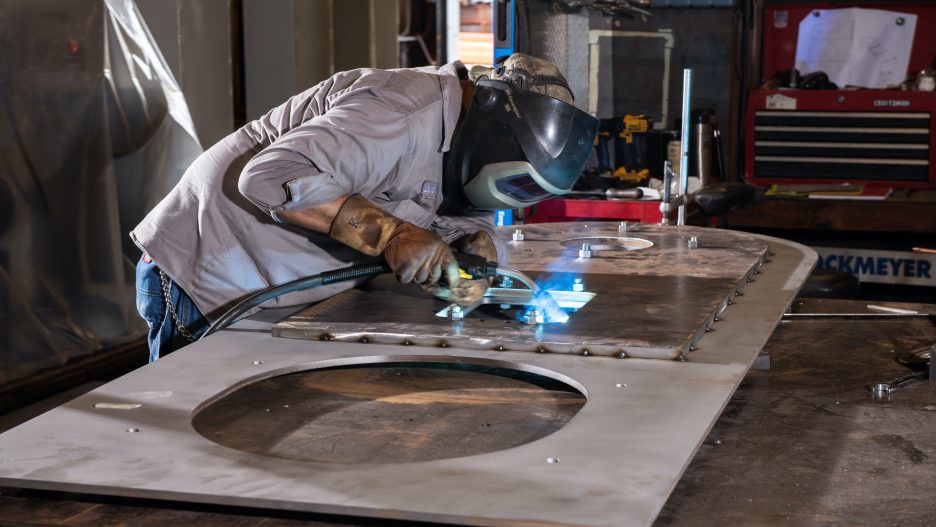 TACKLING THE CHALLENGES OF THE GENERATIONAL GAP IN THE MANUFACTURING SECTOR
By Jacqueline Kenny, Marketing Associate, Hockmeyer Equipment Corporation, Harrison, NJ
Anyone who does not work within the manufacturing sector may have old-fashioned ideas of what these occupations entail. Generally, skills used to create everyday items are often overlooked and taken for granted. Products resulting from the manufacturing sector include the paint on the cars we drive, the makeup we apply to our faces and the electronics that we use daily. Unfortunately, antiquated misconceptions about manufacturing have led younger generations to pursue careers in other areas. The belief that industrial employment will not provide a lucrative career path has created a generational gap within the sector, resulting in a need to replace manufacturing's retiring workforce. To meet the demand for skilled labor, manufacturing facilities have initiated various types of apprenticeship-styled programs to attract, educate and train talent on the benefits of working in a manufacturing setting.
In the United States, manufacturing generates more economic activity than any other sector. Hockmeyer Equipment Corporation plays a unique role in supporting the economy's output by designing and crafting renowned custom processing machines for sectors concerned with optimizing particle size reduction, dispersion, mixing and vessel washing. Paints, coatings, inks, cosmetics, adhesives and food processing manufacturers heavily rely on robust equipment to supply the highest quality products to their global consumers. With a growing demand from numerous industries to produce high-quality equipment, Hockmeyer seeks talented and dedicated workers for its North Carolina facility. To groom welders and machinists to meet the company's specific needs, Hockmeyer has designed the Apprenticeship Program to increase skilled labor and acquisition while attracting top talent to the facility.
In 2016, Hockmeyer began promoting work-based training opportunities to local public schools, colleges and trade schools specializing in welding and machining. Qwavare Moore, the Apprenticeship Program's recruiter, and Hockmeyer Parts & Service Welder, talks about the benefits of the company's work-based program to students interested in pursuing a career in welding. As a former apprentice in Hockmeyer's work-based program, Moore attracts audiences with his experience apprenticing with the company. "I tell them about my accomplishments, and it draws people in," says Moore on how he communicates with interested welders. "Our goal is to get [apprentices] in the door and teach them what we know … mold them right into the company." Qwavare began his apprenticeship with Hockmeyer over five years ago, welding under an appointed company mentor. Moor's mentor "taught me everything I need to know to do my job. From there, once I got the knack of it, you can either stay where you are, or you get room to grow."
Today, there is a growing demand for high-precision skilled labor in the United States. Thousands of good-paying jobs remain open in the trades, and many often pay better than what the average college graduate earns. The belief that attending a four-year school provides younger generations with an economic advantage has left many students with crippling debt and the inability to generate the wages to pay back educational loans. Trade schools often require two years of hands-on training for a specific field, which provides the students with not only the required occupational skills but also experience when entering the job market. Vice President and General Manager at Hockmeyer's production plant, Mike Villardi, discusses how it is challenging to attract talent even by "offering competitive salaries and benefits for welders and machinists." While Hockmeyer continues to attract craftsmen to assemble its equipment, neighboring manufacturers compete for workers with the same trade skills. Hockmeyer's North Carolina manufacturing facility competes for skilled welders and machinists with the local Naval Yard as well as neighboring industries in Norfolk, Virginia.
"We are fortunate that in the area we live in, popular hobbies require skills similar to those we seek," says Villardi. Adding that Hockmeyer employees take pride in their work, saying "it's more than skilled labor; it's a craft." Additionally, Villardi remarks that the Hockmeyer manufacturing plant's geographical area "is a draw for skilled labor."
The manufacturing sector has been the backbone of North Carolina's economy for over 200 years. Today, the tar heel state ranks within the top 10 states in manufacturing and industrial employment. A combination of factors has led to North Carolina's industrial success. Areas such as Elizabeth City boast a rich economic history in the trades dating back to the early nineteenth century. Foundational industries that have flourished in Pasquotank County include lumbering, shipbuilding, textiles, and aeronautics, which continue to support the competitiveness of superior craftsmanship. The northeastern part of the state continues to attract skilled labor with an existing industrial base, available talent, as well as numerous technical institutions.
One of Hockmeyer Equipment Corporation's challenges is competing for name recognition with an overly skilled trade market. As the Apprenticeship Program continues to evolve, Hockmeyer recruiters have noticed that people tend to gravitate towards the businesses that they know. While the company remains competitive in acquiring welders and machinists, they have found it necessary to promote Hockmeyer and the industries they serve to compete with a saturated skilled labor market. "We start at the middle schools for name recognition and then speak to the high schools and colleges in the area to promote Hockmeyer," says Villardi. However, the company has adopted new forms of enterprise development during recent uncertain times.
Staying competitive with enterprise development during the age of COVID-19 has created difficult hurdles for companies to tackle. However, Hockmeyer's surge of business has propelled the company's Apprenticeship Program's skilled labor acquisition. "Our acceptance of virtual communication has made recruitment easier," says Villardi, rising to the challenge of obtaining craftsmen during COVID. While Hockmeyer's enterprise development continues to increase, Qwavare Moore mentions that aspects of virtual recruitment pose unique challenges, particularly for welding. "We're slowly doing virtual meetings, and it's probably going to become a bigger thing in the future, "says Moore, "I feel like to get people to come here, you have to sell them on the experience." As the company continues to expand, the Hockmeyer team members feel promising prospects will flock to their facility for employment.
According to Prescient & Strategic Intelligence, the computer-aided design (CAD) software market is set to witness a growth of 6.6% from 2020-2030. An interesting and outdated misconception about the manufacturing sector is that all the jobs within manufacturing pertain to manual labor. At Hockmeyer Equipment Corporation, the need for skilled drafting technicians with a knowledge of CAD, specifically in SolidWorks, is an area that they seek to expand on. "The Hockmeyer brand has gained momentum, uniquely during the pandemic", says Sara Fulford, Vice President of Sales and Marketing "We've received an influx of machine inquires through our website that does not show any signs of slowing down," she adds. Rick Van de Sande, VP of Engineering, mentions that there is a strong demand for drafters now more than ever. "We interface with customers, produce drawing for our shop, and provide drawings for production so shopworkers can create the parts and pieces for every machine," says Van de Sande on the nature of what the job entails. "Our goal is to make sure that the drawings we create are what our customers need for their facilities." At Hockmeyer, where machine drawings are rarely standard, drafting technicians are crucial for designing customized processing equipment.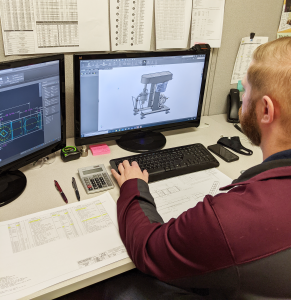 To meet the growing demand for skilled drafting technicians, Hockmeyer's Engineering department has sought internships with the Elizabeth City State University (ECSU) and East Carolina University (ECU) engineering programs. Participants in these programs are allowed to draft and design Hockmeyer's custom process machines while they continue their education. Due to an emphasis on drafting and model drawings, the engineering department seeks applicants who have a passion for working within the manufacturing sector. "If you enjoy working in SolidWorks or creating drawings, you've found the right place," says Van de Sande. Additional advice for applicants considering a profession in drafting and design with manufacturing, Van de Sande comments, is the knowledge of industrial suppliers and where materials come from, which will help further a career in this field. "Knowing the terminology, the industry knowledge, how equipment is used, and understanding industrial technology are pluses to our department," says Van de Sande.
The manufacturing sector is of critical importance to the United States, as it supplies goods and services essential for markets to exist within the American economy. Manufacturing provides lucrative careers for people who are dedicated and seek to acquire a skilled trade. Within a factory setting, there are many different skill sets needed to fulfill the daily functions. Technological and computer-aided skills are just as crucial to a facility's production as welders and other shop responsibilities. As manufacturers address the generational employment gap, younger generations can find opportunities for education and rewarding careers within this sector.