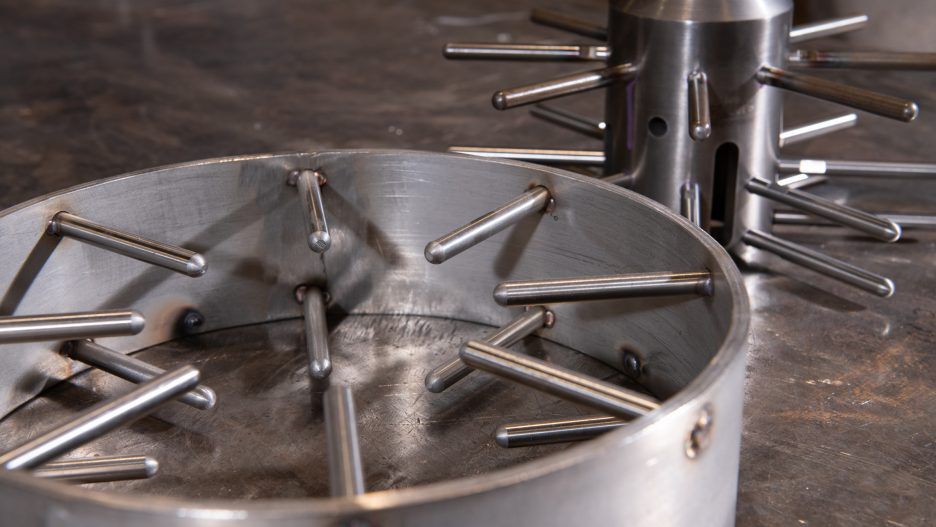 Wet Milling Equipment Parts: Why Custom Solutions Need Custom Parts
With custom solutions comes custom-designed equipment, and while we highlighted the importance of our service department in another blog, another integral part of our business is our parts department. It's an important piece that makes us not only the leader in the wet grinding and dispersion industry, but it's what will help your business find success with our products.
HERE ARE THREE WAYS OUR PARTS DEPARTMENT IS ESSENTIAL TO YOUR SUCCESS.
1. WE UNDERSTAND THAT EQUIPMENT IS THE BACKBONE OF YOUR PRODUCTION PROCESS.
No matter your industry, where processes and production are concerned, your equipment IS your business. Plain and simple. If you don't have the correct equipment, or equipment that is specifically designed for YOUR processes and procedures, all aspects of your business will be negatively affected.
Here at Hockmeyer, we offer custom-designed, high-quality mixing, blending, dispersing, and particle size reduction processing equipment that serves the following industries and processes:
Paint
Cosmetics
Pharmaceuticals
Agriculture
Food
Paper Coatings
Inks
Mineral Slurries
Ceramics
Biotech
Magnetic
And not only do we provide equipment, we also provide solutions. That's why we equip our state of the art Customer Service and Testing Facility with laboratory models of our most popular equipment so we can provide free initial testing, giving you with the confidence that the equipment you're purchasing will fit your specific needs. We also strive to manufacture equipment that will reduce your energy requirements, increasing your bottom line, and decreasing any negative environmental impact.
2. HIGH-LEVEL PARTS DEPARTMENT = NO EXTENDED DOWN TIME
We understand that when your equipment is down, your customer relationships, your reputation, and your bottom line will suffer. Over and over again. There's not much worse than having orders to fill and customers to satisfy with equipment that's not working properly.
Solution: While we know our equipment and parts are of the highest quality, we also know that breakdowns and broken parts can happen. When these issues arise, our experienced customer service technicians will help you get and keep your equipment running at peak efficiency. To accomplish this, we keep a wide variety of parts in stock—from lab units to all sizes of production machines—ready to ship to you overnight, including the following:
Disperser blades
Reinforcement discs
Belts and bearings
Motors
Drive assemblies
Shafts
Immersion mill wear parts
Our goal is to keep any downtimes as non-existent and minimal as possible, helping you keep your bottom line running efficiently as possible 24/7/365.
3. PRIORITIZE CUSTOMER SERVICE + COMMUNICATION
At Hockmeyer, "We don't sell machines, we sell solutions." And while we know our machines are of the highest quality available, we also know that NO piece of equipment is 100% perfect, even though that's our goal. Breakdowns and downtimes will happen—that's the reality. And when these issues arise, you want a customer service team that feels as if it's part of your team, not someone on the other end of a toll-free number who has no idea about you and your business and who is really answering the phone simply to collect a paycheck.
Solution: No matter what phase of business you're in, and no matter what stage of the equipment purchase process you're navigating, in addition to the numerous parts we keep in stock for overnight shipping, our customer service team not only understands you and your business but we're also well-versed in your unique processes and procedures so that if and when you need us, you can be confident we'll be with you every step of the way to get your equipment and processes back online as quickly as possible. We like to think we're experts in your business too!
Here are some of the ways our customer service team will help you from day one of our relationships:
Constant contact from our customer service team to keep you informed from pre-point of sale on
Initial training and continuing education on the products and solutions you incorporate into your business by our customer service team, as well as articles about dispersing, milling, particle analysis, and more on that can be found on our Publications page
Guidance on how our products and solutions can increase your profitability and streamline your processes
Have more questions? Ready to become a valued Hockmeyer customer? Contact us ASAP, and we'll work together to make your processes and procedures as streamlined and successful as possible. After all, your success is our success!