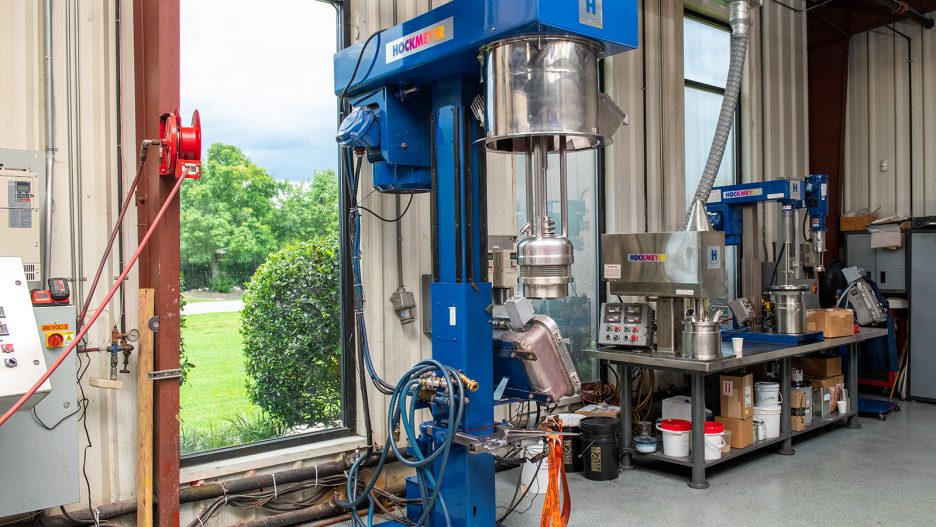 3 Preventative Ways Our Investments Help Your Business
Businesses are always impacted by external events, shifts in the market, and all of the changes that come with it. While no one could have predicted the effects that COVID would have—and is still having on—not only the world, but in the manufacturing space, in particular, there are some ways to decrease the overall negative impact. With that in mind, our company has made capital investments to augment our internal manufacturing capabilities: new cranes, lathe, water jet, turning center, etc. During these uncertain times, it's important to continue to take actions to further our commitment to manufacturing in the US and to Hockmeyer's continued growth.
Why it's important: In the past, we have run into difficulties procuring the required material needed to complete a job because we were at the mercy of our supplier and their lead times. For many in our industry, this is not uncommon. The end result? The lead time delays would also be passed on to our customers. However, in-house capabilities shorten our lead times by creating self-sufficiency and increasing capacity.
Here's a glimpse at some of the improvements and equipment investments we've made recently.
Decrease Production Time
The longer it takes to produce a product, the higher the costs for both production and the customer. That's a fact that does not change. And when equipment goes down, not only is production time and the associated costs increased, but that downtime can be the highest production cost manufacturers have to deal with. In fact, the average cost of downtime across all businesses was $260,000 per hour, according to a 2016 study. Yes, this cost can fluctuate depending on the business and the equipment involved, but downtime can still be extremely costly.
Another cost of downtime and slow production is the frustration and loss of trust from customers; it's difficult to put a price tag on this cost as it can affect not only current customers, but future ones as well. While investing in quality equipment can seem costly at the onset, the resulting decreased downtimes and more efficient production times can actually more than make up for the initial investment over time.
Here are two investments we've made to decrease both production times and downtimes:
5 Axis Water Jet: The 5 axis waterjet gives us the capability to manufacture completed parts right off of the waterjet. Its ability to accurately hold tight tolerances means we can bypass the lathe and milling operations and send the parts directly to QC.
Multi-Spindle CNC Turning Center: With a direct-drive turret and rotary tool milling, this machine is a multi-tasker that enables us to produce finished parts in an all-in-one operation. This unit with its y-axis capabilities not only completes a part from start to finish, but it also deburrs the part prior to inspection. Complete with a bar feeder and dual spindles, this machine can continuously produce multiple pieces from the same stock without having to manually change the feedstock piece by piece.
Increase Capacity with Overhead Cranes:
There are always risks that can stop or slow production lines. One of these factors is production capacity. To combat this issue, we invested in several multi-ton overhead cranes in the manufacturing area. With this installation, we were able to convert an additional 5000 sq ft of storage area into several additional workstations and add employees. Changes in the economy provide opportunities to increase and decrease demand for particular industries, and this investment is a way we can make sure we meet our customer demands so they can operate without missing a step.
Scale Customer Trials with Expanded Research Center:
We expanded our Research Center to include an intrinsically safe pilot plant to scale up customer trials from our lab. This allows Hockmeyer the ability to run lab trials for research and then scale up the process to a production size batch. The key to any test is scale up and repeatability.
At Hockmeyer, we strive to give our customers the latest technology available for in-house testing. This new addition allows us to do the preliminary testing on new customer products, then continue the project through one of our bridge work programs. Our bridge work programs allow the customer to start a project at Hockmeyer and leave it here for us to continue the R&D remotely or process samples for their clientele until their equipment is ready. We are an extension of our customer.
Click here to learn more about our bridge work program
No matter the size of your operation or customer base, with our emphasis on investing in top-quality equipment, our dedication to the latest technology, our customer-customized research, and our in-house testing procedures, we are your go-to source for wet grinding and dispersion process solutions. Our team is ready to put our 80 years of experience in this industry to work for you and your needs. Contact us today.