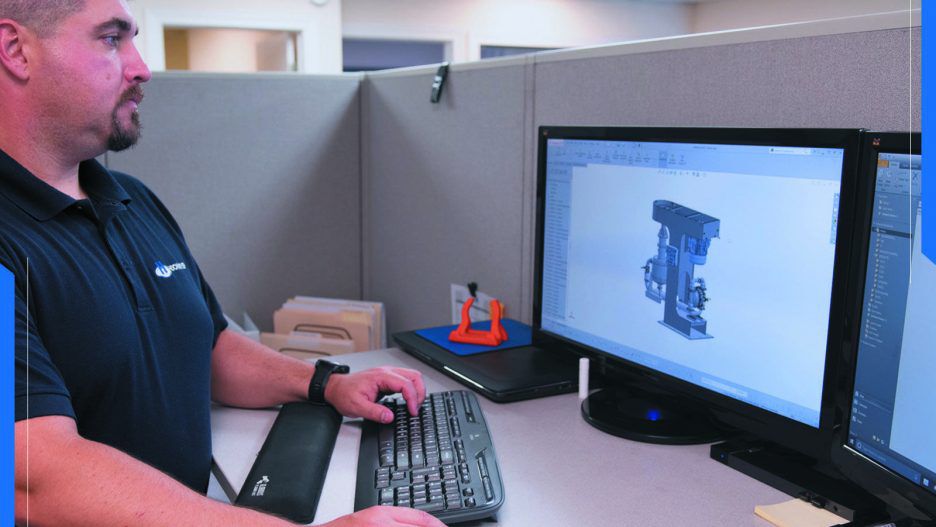 Customer Customization is the Name of our Service Game
We understand that your equipment and processes are the be-all, end-all of your business. We also understand that each of our customers has unique needs where their equipment and processes are concerned and that a "standardized" piece of equipment will not fulfill these needs.
As part of working with each client, we learn their processes so that we can customize machines to fit their specific applications, environment, and regulations. To achieve this goal, we offer a state-of-the-art customer service laboratory for product testing and process development where we can test potential equipment to make sure it will be a fit for each customer's needs, offering customization at its finest.
TOP TWO THINGS TO CONSIDER DURING CUSTOMIZATION PROCESS:
1. Client's application process:
As we mentioned above, when working with each client, our goal is to become experts in their application process. We then take this knowledge and put it to work in our customer service laboratory, finding the pieces of equipment that will complement these unique processes.
One example of this involves our work with adhesives, which are quickly becoming a fundamental building material for a wide variety of businesses in the manufacturing industry. Residual air in adhesives post-production—caused by using more economical and faster-producing high shear equipment—has been problematic in the past, which can lead to issues with packaging and performance. To combat this issue, many manufacturers have opted for low energy agitators. At Hockmeyer, our equipment is configured to process adhesives at a high shear frequency while also including a vacuuming component—necessary to prevent air accumulation in adhesives, saving our clients both time and money.
We have specific pieces of equipment that meet these needs:
Dual Shaft and Multi-Shaft mixers: Our Dual and Multi-Shaft mixers are designed by our experienced engineering staff based on information received from our customers, from our own Research & Development Laboratory, and from data collected from decades of having our mixers in service. Our Dual Shaft mixers use a center-mounted low-speed shaft with an offset high-speed shaft, making maintenance easier than with other mixers. In addition to what's offered on our Dual Shaft mixer, our Triple Shaft mixers also offer another offset high-speed shaft located on the opposite side of the low-speed shaft, providing additional shear and reduced process time. Learn more about these mixers here.
Horizontal Mixers:Our Horizontal mixers are designed to quickly handle large volumes of highly viscous, non-flowable materials, and they feature triple mixing blades for uniform wetting and fast mixing, resulting in the elimination of dead spots. Because of the way they're designed and operated, these mixers also require less power than other similar mixers. Learn more about our Horizontal mixers here.
2. Client's environment + regulations:
At Hockmeyer, we know very well that our clients perform their manufacturing processes in a variety of environments, so one-size-fits-all equipment just won't work. And it can be costly—and frustrating—to try to overhaul equipment to make it fit their processes and environment. When we work with our clients, we take their processing environment into consideration when helping them plan their equipment purchases, ensuring they'll have the correct equipment for their needs.
We also understand that regulations vary between industries, and adhering to these regulations is a top priority for our clients. It's our job to help serve our client's needs within those parameters, so our customer service team works to become educated on the regulations that apply to your business so you can be assured that once that equipment arrives, complying with regulations won't be one of your worries.
And remember, our Customer Service Laboratory provides free testing of your potential equipment, taking your processes, environment, and regulations into account, plus any other aspects of your manufacturing business that affect your day-to-day operations where your equipment is concerned. This testing includes milling, mixing & dispersion, tank washing, and process development.
Click here to learn more about our Custom Solutions + Service Team.
And if you ever have an equipment breakdown, our Parts Department has a wide variety of parts available for overnight shipping to keep you up and running nonstop.
Click here to learn more about our Parts Department + Our Custom Solutions.
Contact us for more information and to discuss how Hockmeyer can meet your unique customer customization needs.