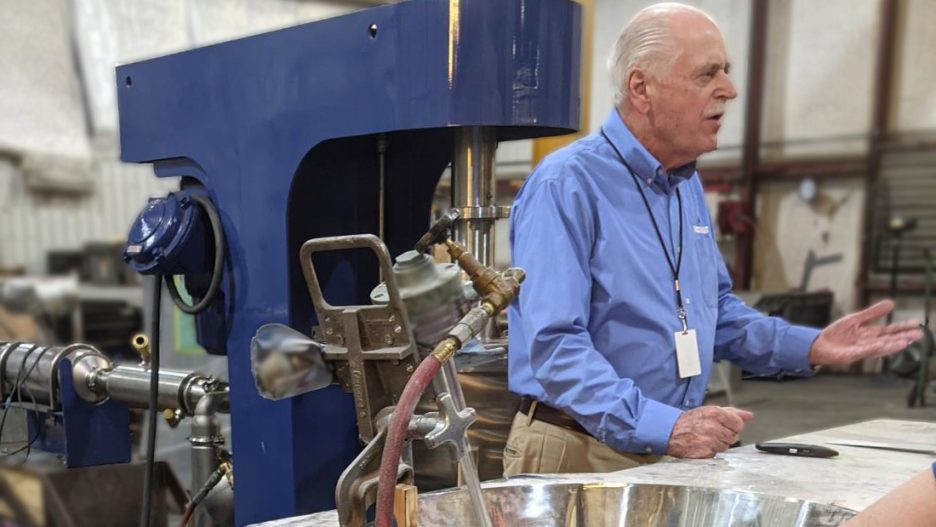 The Hockmeyer Legacy: Innovation in Wet Grinding and Dispersion Process Solutions Passed Down From Generation To Generation
Driven by innovation, the Hockmeyer Equipment Corporation has been a leading provider of wet grinding and dispersion process solutions for over 80 years. The company is an entrepreneurial team of people who share common values and goals: Communication, Conviction, Commitment and Courage. Companies around the world trust machines designed by Hockmeyer because of their unparalleled quality, and because the value and return on investment of Hockmeyer machines are remarkable, but how did this legacy in innovation and efficiency begin?
Hockmeyer's First High Viscosity Mixers and Dispersers
Back in the 1940's Herman Hockmeyer, Sr. was driving a delivery truck for Montauk Steel, a distributor in the Bronx, New York. During a delivery to small local paint company, Bell Paint, he overheard a complaint from Earnie Lubell regarding his inability to purchase paint mixers since the WWII war effort was consuming most available gearbox production. In those days, lead was a primary pigment for paint and required a "Lead Mixer" for its production thanks to its thickness.
What happened next? As the company's President & CEO, Herman Hockmeyer Jr., recalls, "My father approached Mr. Lubell with a solution. He would purchase the rear end gearbox out of a scraped dump truck, build a supporting frame around it, connect it to an electric motor and use the assembly to drive the slow speed mixer blades. Earnie Lubell bought the idea and Herman Hockmeyer, Sr. made his first 'Lead Mixer'. It was delivered about two months later, worked very well, and Earnie gave him an order for a few more and a recommendation to a friend who then purchased eight additional machines."
After the creation of his first 'Lead Mixers', Hockmeyer's next innovation, the high-speed disperser, was launched in the early 1950's and still thrives today, but has become commoditized, presenting new opportunities for further innovation.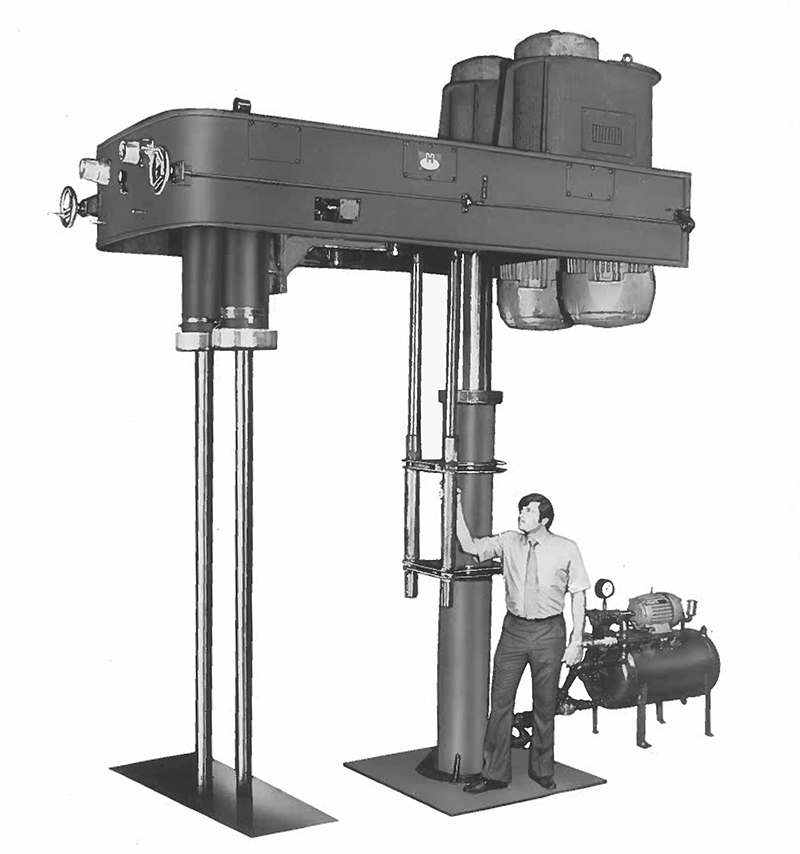 Leading Dispersion Technology Into the Future
Herman Hockmeyer & Co. was born with those first orders, and the rest is history. To this day, the hands-on approach that Herman Hockmeyer Sr. used to create his first machines is a cornerstone of the business and lives on through Herman Hockmeyer Jr., who leads the company into the future today.
As Herman Hockmeyer Jr. made his way through the various areas of the family business, his interest, much like his father's, was problem solving. He recognized the need for a lower cost machine that could do the same job as the higher cost ones, but wouldn't directly compete.
"We already had a high-speed post agitator, used for let-down of the dispersion done on our heavy-duty dispersers. It was similar in appearance but had a less expensive mechanical variable speed drive with a narrower speed range than our dispersers. I redesigned the drive assembly, making it simpler and more easily assembled and re-named it the HVH series economy line disperser. "
The new machine sold for about 20% less, and while it didn't have the same power delivery capability as the company's heavy-duty line, it was comparable to several other manufacturers competing with Hockmeyer's standard.
Today, to keep the pioneering spirit of Hockmeyer alive and well within all areas of the company, Hockmeyer has a culture of innovation, not duplication. To put it simply, "if we cannot build a better product than what already exists, we do not pursue bringing it to market."
This culture of innovation is everywhere at Hockmeyer. "It is who we are. People working as a team, starting in our R&D group, into our engineering group, on to our testing lab, enhanced by our manufacturing group, supported by selected clients for in-plant performance confirmation and presented by our marketing and sales groups. While the germ of an idea may come from anyone in any one of these groups, each recognizes the importance of innovation as the key to our mutual significance and success."
Continued Innovation in Industrial Milling, Mixers, and Dispersers
Despite the strength of Hockmeyer's team, the company is not immune to the same challenges facing most successful businesses. After all, promoting entrepreneurial progress while minimizing risk, creating new products that potential users don't even know they need yet, and changing for the better without losing the company's essential focus on innovation is no easy feat.
The company faces additional challenges thanks to issues facing the industry today. "One of the biggest challenges facing industry today is consolidation. As we have seen in times past, bigger is not always better. Certainly, there are benefits to size and scope but there are complications that do not always appear until too many judgement errors are swept under the table. Big can be good if it is managed properly with a mindful eye on objective change."
Though the challenges facing the company may seem daunting, the Hockmeyer team faces them head on, and with confidence. The company's stance on competition and challenge in a nutshell? "Competitive threats are opportunities if treated as such. Address the risk/reward ratio and act accordingly."
That confidence, combined with the ever-present spirit of innovation, has led to numerous advances in the industry developed by the Hockmeyer team. Most recently, "Hockmeyer has developed a generational advance in dispersion, both in premixing and in milling… in many cases producing close to total uniformity. While most dispersions are not as demanding, even those can be done in at least ½ the time as competing equipment. This is a disruptive advance in technology."
These advances allow Hockmeyer to lead the way for others in the industry, but "because of a reluctance to change along with perceived associated risks, this technology will develop only as rapidly as users discover they are at a competitive disadvantage without it." It's a challenge to persuade others to let go of the old and embrace powerful new technology, but once they do, the benefits are undeniable.
The Future of the Hockmeyer Equipment Corporation
What does the future hold for Hockmeyer? Today, Hockmeyer continues to lead the industry with unmatched performance of this continuously evolving technology and customer service, while designing equipment that is of the highest quality available. Thanks to the company's strong foundation, cemented by both Herman Hockmeyer Sr. and Herman Hockmeyer Jr., its flexibility when bringing new technology to the market, and its steadfast focus on entrepreneurial team innovation, the future is bright.