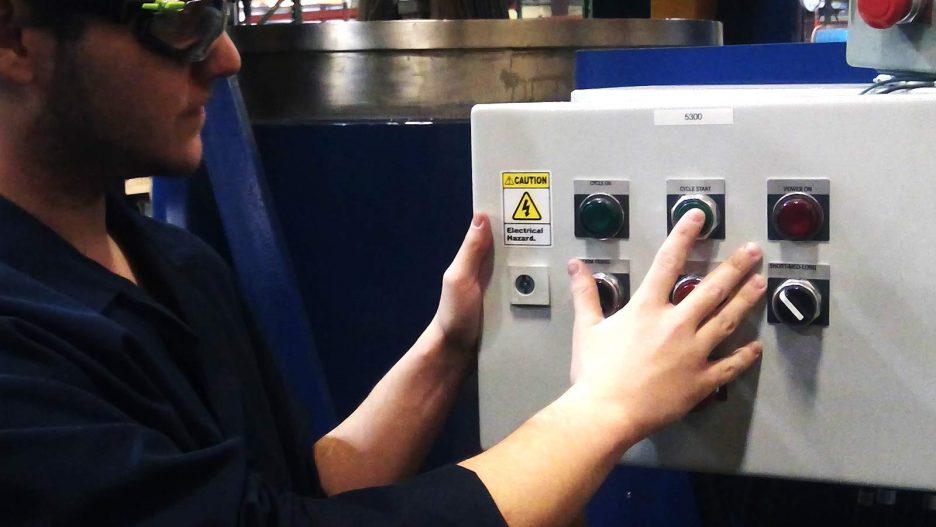 How Tank Cleaning Can Become Your Next Profit Center
If you, like many others in the manufacturing industry, are looking to increase profits and streamline your process, investing in industrial tank cleaning equipment can make all the difference. Interested in learning more and setting yourself up for success? We have answers.
Why is vessel cleaning an essential step in the manufacturing process?
As with any other piece of manufacturing equipment, regular maintenance and cleaning are essential for your vessels. When the cleaning process is not performed thoroughly, residual material left on a vessel surface could alter the properties of future batches thanks to any colorants or additives it contains, resulting in contamination for materials processed in that same vessel. One example of this would be if a small, inconspicuous amount of red ink is left in a crevice of the vessel, which could then transfer into a batch of white, turning the ink into a pastel pink.
Expand your profits and reduce time spent on labor-intensive processes.
As with all business owners, we know that increasing your profits is key. While it may not be the first thing that comes to mind when thinking of ways to streamline your manufacturing process, tank washing is the hidden profit center in your factory. How? By reducing the number of workers needed and time required to effectively clean vessels, addressing the labor shortage many companies are currently facing. Plus, with the help of a tank washer less solvent and detergent are needed, and less waste is created, reducing the amount of byproduct you need to deal with.
Our answer to the challenges facing everyone in the industry today is the Hockmeyer CMX-200 Vessel Washer. This system efficiently cleans practically any size tank, tote, or drum thanks to its rotating brush and spray nozzle assembly, which provides the mechanical scrubbing and soaking action to effectively clean vessels. This design improves productivity and profitability. With a new tank washer, you'll be more efficient and create less waste, all with less manual labor required. Plus, your industrial tank cleaning equipment will pay for itself in a short period of time. In fact, in most cases, our clients' tank cleaning systems have paid for themselves in under a year.
What are a few specific benefits of the CMX-200 Vessel Washer, and how can they be applied to your business? Let's take a look.
The benefits of safe and efficient cleaning of vessels in a manufacturing setting.
We know that you want to get the most out of your cleaning process, but understand that ensuring the safety of your team members can also be an issue in many manufacturing settings. With the help of a new industrial tank cleaning system like the CMX-200, your business and employees will both reap the benefits. The CMX-200 Vessel Washer can replace the labor-intensive manually-performed cleaning process that can delay the start of new batches, and with its help, you'll limit the loss of production hours and potential profits. In some industries, this machine can even do the work of two or three people, allowing members of your team to move to other positions where they can be most valuable.
Plus, making manual cleaning a thing of the past will increase operator safety, allowing the handling of hazardous materials, compounds, and vapors to be controlled. Increasing operator safety and streamlining the cleaning process will provide your employees with a better environment to work in, and limit the amount of solvents, fumes, and chemicals your team members may come in contact with.
To help you better understand the benefits of our CMX-200 tank washing system, we've compiled several case studies using our Payback Period calculator to demonstrate your potential return on investment when using a washing system instead of a manual tank washing process. Take a look to see how our industrial tank cleaning equipment can make a difference for your business, whether you're working with solvent-based lacquer, plastisol ink, water-based paint, or latex caulk. Plus, you'll be able to view monthly savings and pay-back period details too.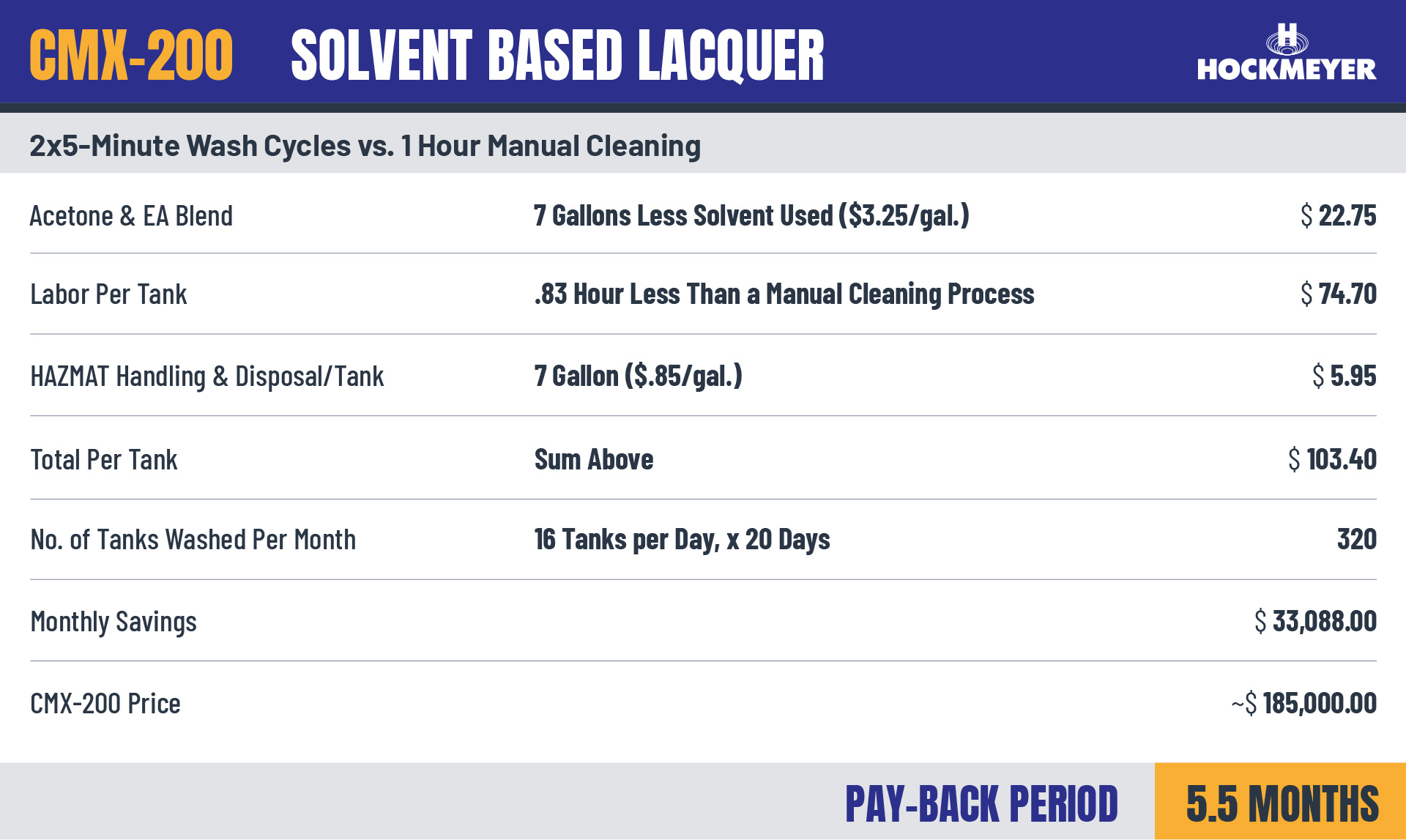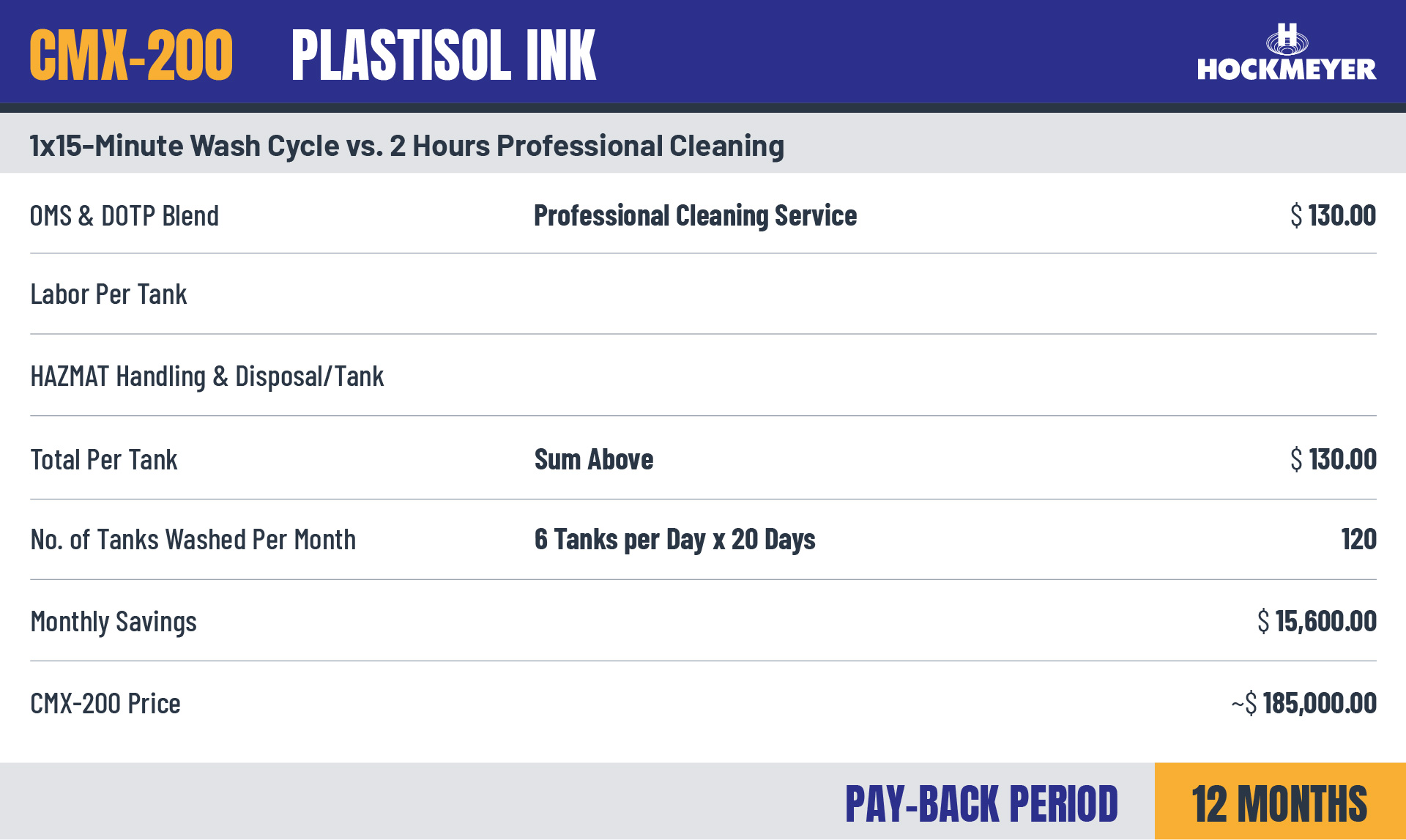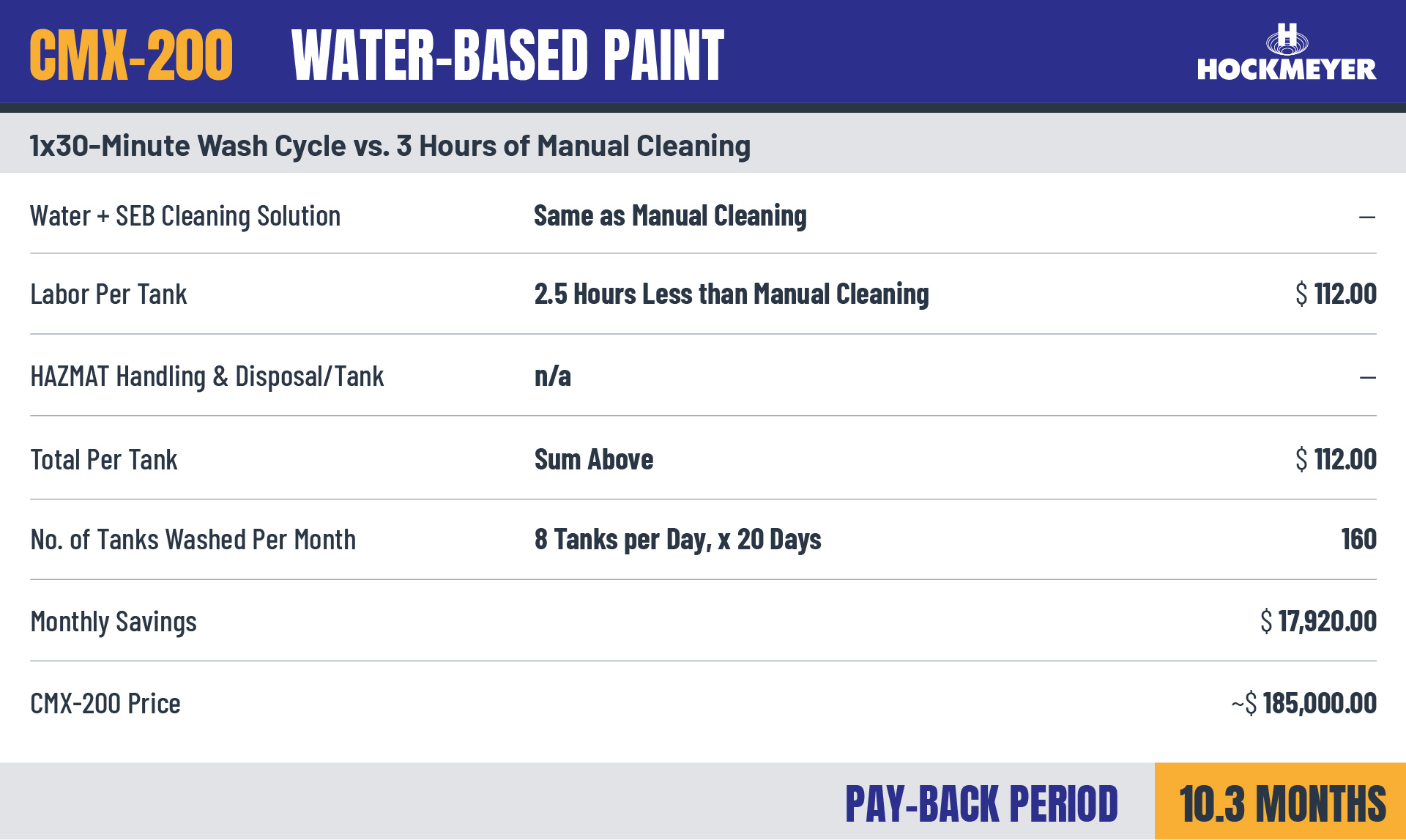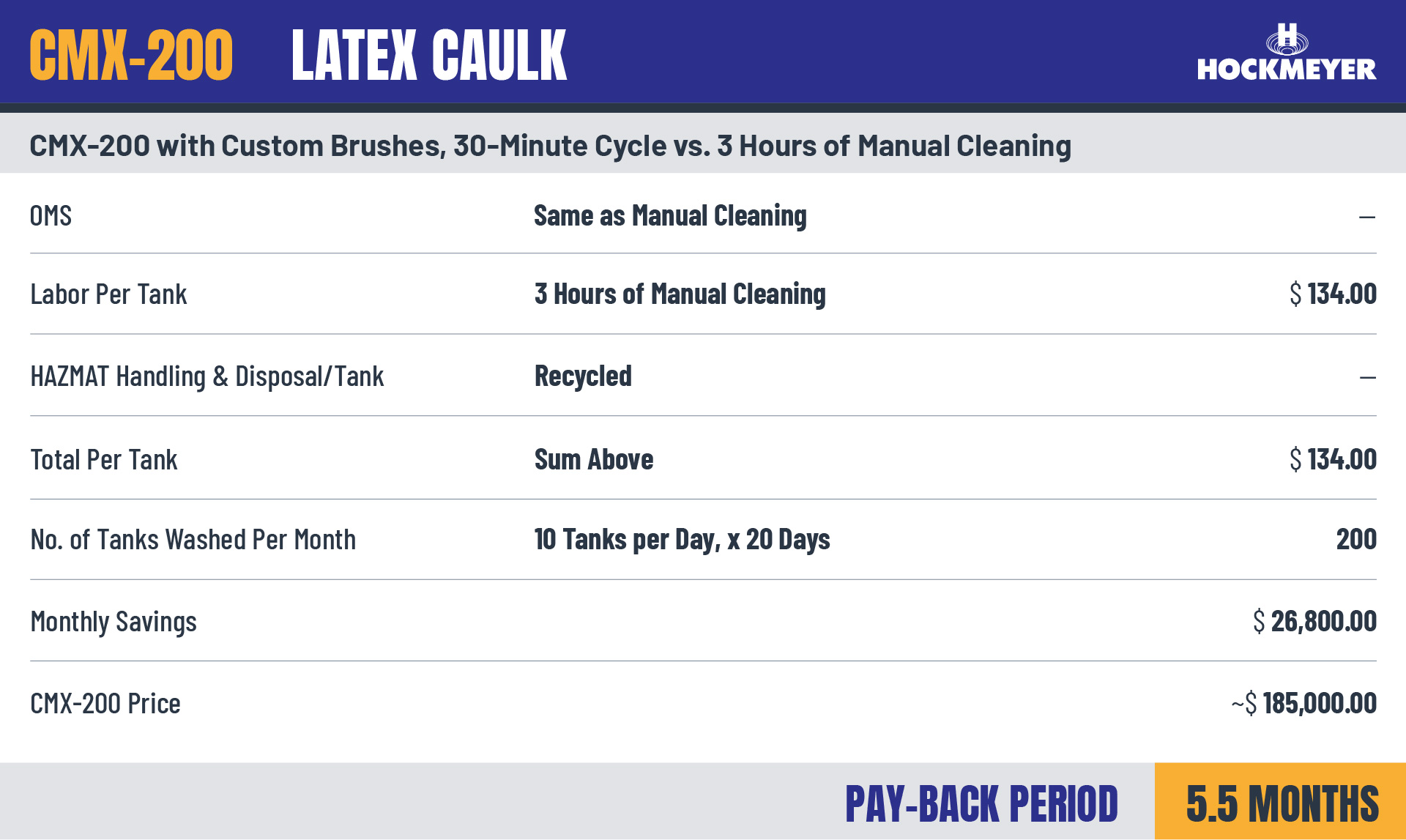 Another selling point of the CMX-200 is its wide variety of customization options, including the ability for units to be manufactured in custom sizes and tailored to meet specific building requirements. With the ability to include custom brushes, different drain configurations, and larger lids for bigger tanks, our tank cleaning system will enable you and your team to clean vessels without a bottom drain valve by sucking the solvent up through the shaft and back into the decanting tank. A new tank cleaning system also provides a positive environmental impact, ensuring that you and your employees aren't the only ones who will benefit from your new system. The CMX-200 provides a safe control system for XP environments and cleans while fully enclosed, which limits the release of unnecessary VOC's into the atmosphere.
Interested in learning more?
If you're ready to put the CMX-200 to work in your manufacturing facility, we're ready to help you get started and provide you with the answer to your vessel washing needs. Contact us today for a Payback Period calculator tailored to your business to see how the CMX-200 can work for you, and to learn more. Our expert customer service team is ready and willing to assist you.