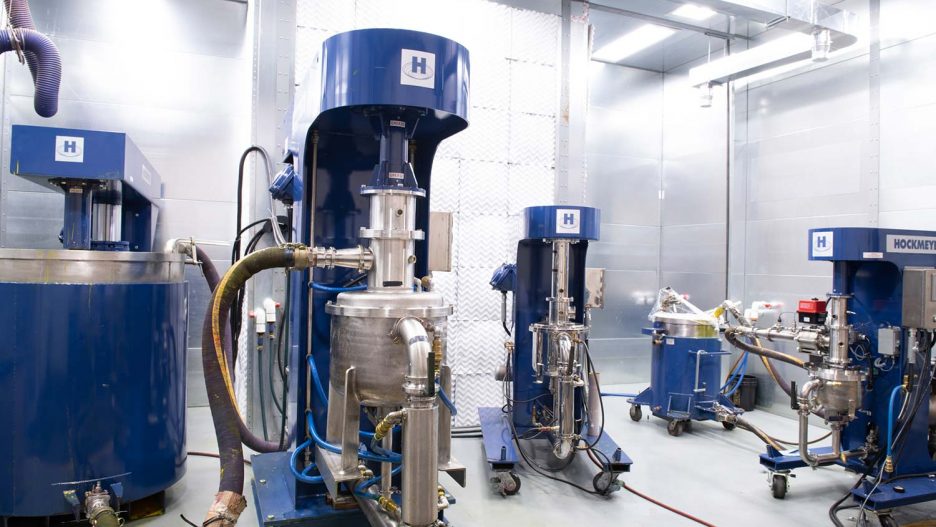 Top Ways to Know Your Mill Meets Your Business Needs
Your equipment is the lifeblood of your business, and no matter what industry you are in, there can be many common threads when you're trying to figure out if your mill will fit your business needs. After all, it can be a large, upfront investment, and if it functions efficiently—both in production and cost, it's an asset. If not, it's a very expensive liability. Doing your due diligence prior to making that final purchase will allow your upfront investment to pay you back in so many ways over time.
Since your equipment and processes are at the core of everything you do, they are likely unique to you. For this reason, alone, you want to find someone who will help to customize machines that fit your applications, environments, and regulations. At Hockmeyer, we do just that. We work with each client to understand their application process and all aspects of their business from A to Z to ensure their equipment is the right fit for their needs.
So, how do you know that your mill will meet your business needs? Here are three things to think about before finalizing that mill purchase:
Consider Material Loss.
When choosing a mill to fit your business needs, it's important to find the equipment that maximizes efficiency and performance, and you need to know how the equipment will perform for your product. There are many factors to consider, and material loss can be a big one as it's part of your overall manufacturing costs. The lower your costs, the better your bottom line looks.
Looking for technologies that reduce material loss is a surefire way to help improve costs. At Hockmeyer, our patented media containment wall, for example, ensures retention of small media which, in turn, reduces material loss and improves yield. Additional benefits are:
Reduction of raw material costs by an average of 5%.
Efficient use of small quantities of media.
Minimization of contamination, solvent loss, and product loss.
Another thing to think about when considering mill purchases is size. For instance as Nanoparticles continue to become more and more common in the development of new products, using the correct equipment for this manufacturing process is crucial if businesses want to keep a leading edge over their competitors now and into the future.
Our patented technology in particle reduction continues to improve nanometer-range particle distributions, allowing us to serve businesses with their Nanoparticle-related mill needs now—not months or years from now.
Related: Click here to read more about particle reduction into the nanometer range
Does Your Machine Save You Time (and Money)?
By improving the efficiencies and reducing the waste, as we mentioned above, your process inherently becomes leaner. This allows you to produce better quality product, improve customer satisfaction, and increase your profits. While it might seem like a no-brainer, higher profits are not only a result of reduced production time while increasing manufacturing output, but they're also due to the positive impact you have with your customers.
Choosing a machine like our HCP Immersion Mill allows our customers to reduce process time by as much as 300%. This, in turn, allows you to produce more in less time. It's fast mixing and milling of raw materials allows for as fast as 50 passes per hour, making it faster than any other option in the market.
In other words, by investing in a mill that with reduced process time, you're saving money, and continuing to make your company leaner…all with one investment.
Purchase with Confidence.
Milling equipment is expensive, and if you're not confident that your equipment will perform correctly now and long-term, this lack of confidence can make it difficult to know which equipment to add to your manufacturing processes. To make the purchasing decision process easier, we offer both a customer testing lab and a test-to-own program.
Customer testing lab:
We understand how challenging it can be to choose the right equipment for your unique processes, which includes taking into consideration processing time, scale-up, cleanability, product loss, ergonomics, and the desire to exceed industry standards. To make this selection process easier, we've equipped our customer testing lab with our most popular models, and our in-house testing allows our customers to not only complete initial testing for free, but it also allows us to perform the R&D remotely or process samples on current projects until equipment is ready for use.
Related:Click here to read more about expanded research center
Test-to-own program:
Once equipment has been deemed optimal for your needs in our customer testing lab, our test-to-own program takes over. The testing procedure continues at your facility, eliminating the need for a long-term Capex commitment, which allows manufacturers lower up-front costs. Test-to-own provides the following benefits, which allows time and space to obtain decision maker buy-in:
Hands-on operator training
Unlimited internal testing
Unrestricted data testing
Closely monitored process validation
Related: Click here to read more about our test-to-own program
Purchasing the right equipment for your unique business needs can feel daunting, but when you're certain that your production processes will be optimal and as waste-free as possible, adding profits to your bottom line while concurrently creating contented customers now and into the future, you can purchase your equipment with confidence.
Contact us for more information about our products, our customer testing lab, and our test-to-own program and how all three can best serve you and your business needs.